Polly, Dave, Sam, Sally and Nancy at Pine Brook Farm, Buckland/Shelburne Falls, Mass.
In 1967 Dave took a teaching job at Greenfield Community College. In December 1967 the family bought and moved into Pine Brook Farm on the edge of the village of Shelburne Falls in Buckland, Mass. Here the family had a large garden, an old farmhouse to renovate, new friends to make, hiking and skiing, and room for horses. Polly accepted Dave's request that she not get involved in town politics right away, but then the Buckland Selectmen decided to reroute Conway St right through the "Cricket Field", a ball field in the village. Polly started the Buckland Conservation Commission to add some balance to the "development at all costs" mindset of the selectmen. When she commented to a local friend that she was meeting some resistance in her efforts, she was told "Polly, the valley is narrow and so are the minds of its residents". At this time she also started the Deerfield River Watershed Alliance (more on the DRWA below) to stop an Army Corp of Engineers dam proposal on the Deerfield River. She left the Conservation Commission after receiving an unsigned letter that said "You ought to mind your own business. Your barn would make nice kindling."
Polly joined the Thunder Mountain (later Berkshire East) Ski Patrol. At one point the entire family was on the patrol, and everyone made many good friends while skiing. Every summer the family would travel to Moose Campground in North Conway New Hampshire for a week or two of hiking and swimming and relaxing. Polly had always had a love of horses, and soon Eric and then Toddy were living in the barn at Pine Brook Farm. When they died she got Civian. With these horses she started a 4-H club to teach local children about horse care and horse-back riding. Sam, Sally and Nancy graduated from next-door Mohawk Trail Regional High School and went off to college, and Polly and Dave were "empty nesters", occasionally welcoming one child or the other back for a while as they navigated adulthood. Polly and Dave started a hiking group that came to be known as the "Champagne Hikers" (more on them below). Polly and Dave lived at Pine Brook Farm until Dave's death in 2015. Polly moved to "The Little House" on Sal's property in 2017 and sold the farm to Sam and Marie.
Here is a slide show of photos from this time period, mostly by Dave.
Back to the Table of Contents
---
A selection of Polly's Journals

Polly kept a journal for many years. An early example is found at the Alaska link above. In 2004 she started keeping it on her computer. At some point she started emailing it weekly to family members. Jeannie has selected representative entries from the 2004-2021 era here. We have, for the most part, not corrected spelling and punctuation, as Polly was somewhat informal in her journaling.

Back to the Table of Contents
---
Deerfield River Watershed Association


Polly at the dedication site of "Polly's Crossing"


Polly was part of the group who in the early 1990's stopped the Army Corp of Engineers from building a 260-foot dam across the Deerfield River at Stillwater in Deerfield which when filled would have backed water up to Shelburne Falls. It was to protect East Hartford from flooding. This group was able to "out engineer" the Corp by proving that the Deerfield River crested before the Connecticut river, so was not the cause of downstream flooding. Out of that issue, the DRWA was formed in 1994 as a group representing the Deerfield River for relicensing the power dams on the river. Polly was a founder and has been a member ever since. Her main interests with the DRWA had been the Mohican-Mohawk foot trail from Shelburne Falls to Deerfield. She was instrumental in getting the power company along with other donations raised, to build the present popular walking bridge across the South River in Conway, known as "Polly's Crossing". In recent years Polly mentioned several times how happy she was with the energy and enthusiasm of the DRWA board. You can learn more about the Deerfield River Watershed Association here.
Here is a compilation of responses to Polly's passing from her friends in the Deerfield River Watershed Association:
Thanks for letting us know. I had not heard. I shouldn't be surprised to hear the news, given her age, but I guess I similarly thought she would "never" die. I am glad to have spoken with her when she came to the tree planting event in Colrain in late October. But in an ordinary year, I would have seen her over the winter at Buckland library soup nights. This is very sad.
Andrea Donlon
Polly Bartlett
Indefatigable advocate for the environment and for protecting the beauty and culture of our area.
Irrepressible enthusiasm.
Motherly concern for other's safety, well-being, and personal enjoyment.
Model of self-confidence and humility.
Polly leaves a wonderful family and a broad and memorable legacy of involvements and accomplishments during her life. Creation, maintenance and protection of the Mohican-Mohawk Trail, Polly's Crossing bridge over the South River, stopping the Deerfield River Dam number 1 which would have created a lake covering the valley from Deerfield to Shelburne Falls, creating the Riverfest event in Shelburne Falls to educate people about our natural environment, creation of the Deerfield River Watershed Association, the Shelburne Falls Trolley Museum, protection from development of the hillside field across from Mohawk Trail Regional High School, creator of the Champagne Hikers group originally with fellow Thunder Mountain Ski Patrol members. And these are but a few.
Her loss to our region is immeasurable. Demonstrating and inspiring leadership qualities in us all, she would tell us now that it is up to us to carry on with her initiatives.
Art Schwenger
This is such sad news. Her presence will be missed. I am so glad we were able to honor her with the Trout Unlimited Conservation award last year.
Sheila Kelliher
I am so very sorry to hear we have lost Polly. She was a wonderful, intelligent, compassionate human being who loved the outdoors and even rode horseback until quite recently. I can only hope to be the concerned involved person she was for her entire life. I do hope there will be a celebration of life.
Terry Atkinson
I am so sorry and shocked to hear this news. Polly was such a sweet and wise lady, an important part of DRWA, and will definitely be so missed.
Chris Curtis
I am so sorry to hear of Polly's passing. What a tragedy, but what an amazing life she led too. I am going to greatly miss her, our hikes & discussions together, and her time on the Deerfield River Watershed Association Board.
I do like the idea floated by the Champagne Hikers of a memorial hike to Polly's Bridge. https://deerfieldriver.org/river-trail-maintenance-mohicanmohawk-trail
Jim Perry
Back to the Table of Contents
---
Champagne Hikers Group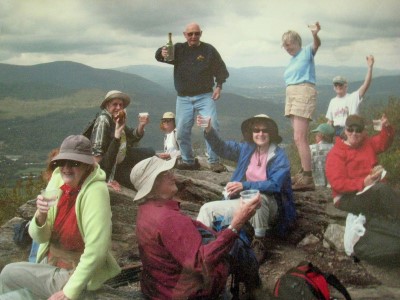 A classic "Pop at the Top"
A cold hike to High Ledges (Jim Perry photo)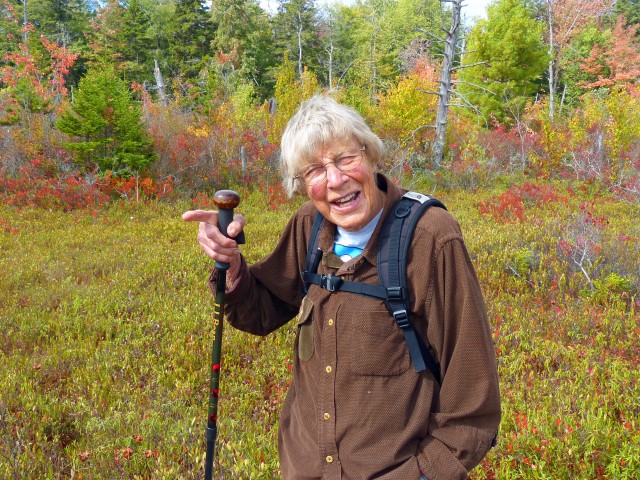 Polly leads the way at the Hawley Bog (Jim Perry photo)
A GPS-fueled "Board of Directors Meeting" (Jim Perry photo)
No, Polly hasn't fallen and she isn't napping.
She's demonstrating how to roll down the hill across from her farm at the end of a hike....(Art Schwenger photo)
Here is the Story of the Champagne Hikers Origins (as told by Margaret Freemen) and a compilation (by Tiger Waterman) of hikes that Polly led, was on, or was mentioned in (see Vol 6 #1 "We did wonder why the skiers had not obeyed Polly's injunctions to keep together and wait at junctions"). If you only want to read one classic Polly-led trip, search for Vol 5 #40, a Halloween hike that Polly led.
Reading these reports is not as much fun as going on a hike, but it does give you the idea of the fun and comradery that the group has had over the years. Note: "BOD" or "BODM" is CH-speak for a Board of Directors meeting, e.g. a group discussion on which trail to take, etc. along the hike. Grab a bottle of champagne and settle in.
Here is a slide show of posters that Tiger made for the Champagne Hikes that Polly led.
Email Tributes to Polly Bartlett
from the Champagne hikers
Bari and Ted send best wishes to all the Champagne Hikers as we remember our founder and friend Polly Bartlett. We responded to a local ad for an Appalachian Trail Hike in January of 1993. It was led by Polly. Her redheaded son Sam was there too. We hiked up on skis and snowshoes to McCloud Pond in the Catamount. Polly got far ahead of us all. We learned her nickname then, Mrs. Donner. She ate the others up in terms of speed and stamina. We recall her far ahead on the frozen water of the pond. Some of you know Deb Oeky, who was there that day too. When the hike was over, Polly invited us to be part of a small hiking group, then unnamed, that met every Wednesday. It was an invitation just for us, as most of the hikers that Saturday were young working people. Polly herself worked on the ski patrol at Berkshire East, then and for about another 15 years till she was 78. Our earliest hikers included Ted and Lisa Merrill, Jack Blood, Hattie Ball, George Rapp and Deb Oeky. Polly knew the trails because she had explored them on her beloved horse. George gave us our name, Champagne Hikers. Hank and Margaret Eggert joined us and their daughter got us our insignia on our tee shirts and sweat shirts. Polly was our inspiration, and a dedicated leader. She will be missed mightily!
Bari and Ted Jarrett
Polly was an inspiration to all of the Champagne Hikers and the many skiers who knew her, too. Yes, the "Polly Miles" were especially long when we set out on the "Champagne Loop" after lunch. We are all so grateful that she started this hiking group and led us up and down so many wonderful trails.
Emma Stamas
She claimed the Catamounts were her favorite......
Eileen Wood
Polly welcomed us when we moved to Buckland, introduced us to the Champagne Hikers, and introduced me to snowshoeing through the Purple Forest and the Buckland Rec. Snowshoeing clumsily, I might add — it took a while to catch up with her! Norman, who worked for the Boston & Maine before retiring, became close to Dave, for both shared a love of anything on metal wheels.
It delighted us that Pine Brook Farm remained in the family after Dave's death and that Polly had a wonderful "new" family home in which to enjoy her remaining years.
Perhaps the best way for us to honor her memory is to do an annual hike in her name… with extra champagne at the end. I'd suggest the Polly's Crossing hike, except that all the beautiful places mattered so much to her that picking a favorite of hers might be nigh unto impossible.
Dale Moss
I met Polly about 20 years ago on a Deerfield River watershed hike. She introduced us the Champagne Hikers and she became our friend, hiking companion and role model. We enjoyed every moment we were around her. I have to admit though, that it took me a while to figure out what a BODM was! ("Board of Directors Meeting". When we needed to discuss our trail decisions.)
Ed Stamas
I am deeply moved by all praise for this inspiring woman who I barely knew. Certainly, I missed out but I did hike with her a few times and I'm truly amazed at what I hear of her list of accomplishments. Clearly, we were on the same path but different timeline. I may meet her over the horizon.
Rest In Peace Polly.
Peter Brooks
Polly was indeed a guiding star. I will never forget the "Polly miles" and her fortitude to forge ahead. Thank you, Polly, for all you did.
With deep gratitude,
Jenna Holzman
Polly was a monumental inspiration. We will be forever in her debt.
David Levenbach
As you will hear from so many people, your mom was an example for me of a life well lived. She was a role model. Independent, sharp, athletic. I didn't see her crossing many things off her life list of things she could do (as I, sadly, at 60 am already doing, including skiing!)
I didn't start crossing paths much with Polly until about 2010. Greenfield Drama Club, the hikers, other theater. I always loved to hear what she had to say, whether I agreed with it or not.
In some other life, I hope to be as able at as wide a circle of activities as she was. She exemplifies to me a classic New Englander -- capable, practical, positive, family-oriented. I thoroughly enjoyed having her in my life. And am very sad that she has departed.
Hugs to all of you,
Jackie Walsh
Ohhh no, my role model Polly, I'm so sad to read this. Last time I communicated with her, in this past year, she told me how we should walk together when covid was over.
This beautiful spring morning has just lost a bit of its lustre but Polly is shining so brightly in our hearts as we try to deal with this sad and hard to believe news. She is the true spirit of the Champagne Hikers and we will always look to her as we walk the lovely woodsy trails she loved. She introduced us to many of her favorites. I will forever think of her encouraging us to roll down a steep hill at the end of one of her hikes. She led the way and many of us joined her in this joyous childhood rite. She was ageless although when she and I walked through the Hawley Bog last fall I sensed a winding down in all but her energetic joy over each plant, shrub, bird, and sunbeam.
There is a bridge crossing the Deerfield River named in her honor for all she did promoting healthy watersheds in the Shelburne area. How sweet it would be to gather there some day and sing out to her.
Eileen Wood
Definitely a good idea to organize a hike to Polly's bridge when conditions allow. She fought to have that bridge built for so long, it's a perfect tribute for her.
Marie-Francoise Hatte
Polly popped up in my research on fixing the Wilcox Hollow access road from back in the early aughties trying to establish a recreational area. I'm inspired to continue her crusade. I was further inspired after we spoke together of it in the late fall. "May flights of angels...."
Alan Harris
Thank you, Polly, for your steady leadership and example. You will be missed and remembered.
William Thwing
We are very sad to read this news of Polly. She is most definitely a model and beacon for us—her stamina, her spirit, the joy she took in life, her commitment and active participation for what she believed in, her beautiful smile, the amazing perspective on the history of our area afforded by her long life and many interests, the list is long.
We have felt comforted by this beautiful string of loving messages.
We are looking forward to seeing you all again. Polly will always be along with us.
Love, Kate & Tom
Polly has been a role model for me too. I hope I can hike as long as she has. You will be missed Polly but your legacy will live on. I'm indebted to you for helping to start the hiking group and sustaining it all these years.
Don (Clark) Gehring
Peter and I have known Polly for many years and in addition to trying to keep up with her on hikes, still treasure the train trip we took together with her and Dave from Albany to Albuquerque! She was very special both on and off the trail.
So, we join all of you who grieve at her passing but rejoice in having known her.
Susan Purdy
Polly is my hero and role model!!!
I will never forget hiking up a hill with her. We were quite a ways ahead of the rest of the group, trudging uphill, occasionally chatting about nonsensical things. All the while I was wondering when she would finally slow down a bit so that I could catch my breath. I was very well aware of how senior she was to me in age and completely blown away by her stamina.
Rest in peace, dear Polly, rest in peace!
Be well, be in peace,
Diane Jacoby
Polly was truly amazing. I was introduced to her, when she had basically retired from hiking with the group. She inspired me with her radiant smile and gentle manner. I am so grateful to have shared a trail with her. She will be deeply missed.
Eric Weisberg
Such sad news to receive in this early morning. Let's hope we can all have the same vibrance, resiliency, and zest for life as she did. A very great lady who will be missed even more once we all hike together again.
Carolyn and Dave
Polly led and inspired this fabulous group that has enriched my life so unexpectedly. Her death is a shock. Her life is a beacon. I am forever grateful.
Andy Beckerman
Such sad news.
Although relatively new to our Champagne Hikers and not having the opportunity to hike frequently with Polly, it was obvious how integral she was to our group. And the handful of times she was in my presence, Polly was gracious and welcoming, talkative and smiling, cheerful and warm.
Very sad news indeed.
Ali
She was a special person. Several years ago she took me hiking behind the Lamson Goodnow factory to see the structures someone had built down in the woods below the buildings, nearer to the river. All kinds of things made from tree branches and stones - totally amazing. She was in her 90s then and I could just about keep up with her. She lived a full and rich life. I am blessed to have known her.
Rita
I always thought of Polly as indestructible. Alas, it was not so. But she showed more pluck and determination and independence than nearly anyone else. She forged a path for all of us, and we are so much weakened by her absence.
Gabriela
You won't find a space large enough for those Polly had affected and influenced during her life unless you send us all into outer space. My sadness at never seeing her again in this life is compensated by the many memorable and happy times I spent in her company. She was "a choice spirit!"
Margaret
So sorry to lose such a great lady. She was an inspiration to us all. Last saw her skiing Berkshire East before the pandemic. Will never forget the hikes she led. She will always be in our hearts.
Rick and Sue Gay
Polly was wearing her Champagne Hikers tee-shirt when she took her last breath.
Back to the Table of Contents
---
Polly was very involved in the Shelburne Falls Trolley Museum: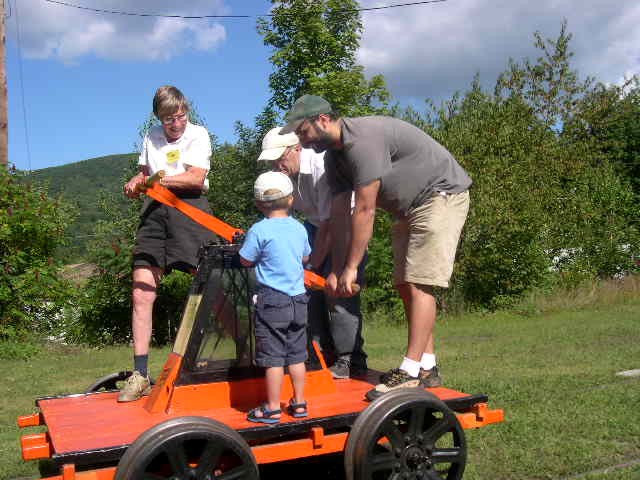 Polly giving a "cooperative experience" to guests at SFTM
Messages from Polly's friends at Shelburne Falls Trolley Museum
and the Art Garden
Everyone also expressed their condolences to the family, but I've edited that out for brevity.
I remarked how Polly was kind of the Mom of the museum, telling Rowan to tuck his shirt in, telling me my shoes were falling apart, and would I take my smelly old pipe out of the crew room. She did that without offending people, too.
I will miss seeing her around the museum.
Bill
Speechless, i am beyond sorry to learn of this. Always liked working, talking, helping her at the museum.
Richard
I am so glad to have Polly as part of my life and to share her friendship. There will always be a warm place in my heart with her in it. Thanks very much for sharing some of her last time with your family. It was good to hear but sad.
Nash
I am so sorry to hear about Polly. She was one of a kind. She envisioned the best of the Trolley Museum and taught us all the value of being young at heart. She will be immensely missed.
Gary
Your mom was one of the most amazing persons that I have ever had the pleasure to know. Her appreciation for family, volunteering, nature, hard work (too many to name in an email) as well as her full involvement in the community is an example that will remain with us all forever. Please let me know if there is anything the SFTM group can do right now to help or anything that I can help with.
Betsy and Bill
I am sorry for her passing, she was a strong and remarkable woman who will be sorely missed. I'm glad you all were with her right through the end. I am particularly heartened that she was able to pass at home on her sunny porch, I wish we could all have that at our end. I'll be holding her in my thoughts.
Laura
Very sorry to hear this news, but I'm sure that is the way she would have preferred the end to happen. Polly was certainly an inspiration and friend to all of us. She had a way about telling you when she didn't like something, but in the next breath she would compliment you which left you feeling good-very tactful. In the few years I've been around the museum, I have acquired many fond memories of Polly. Every time I think about our policy going forward of re-opening, it always ended with the thought of how could I vote to open and possibly expose our volunteers to the pandemic, especially "Miss Polly" as I always referred to her.
Lou
Oh .... my eyes are brimming with tears......
my love to ALL
A wonderful life... and a smooth glide into her next life.. she is a classy lady.
Be proud of that.
Jay

OH! I will miss her sooo much! She was such a LIGHT! so full of life and energy and 'spit'.
She reminded me that aging doesn't mean you need to stop living fully.
She spoke her mind and demanded honest and authentic responses.
She gave soooo much to our community and to the Art Garden specifically!
Jane

Polly was bigger than life and I had no doubt, knowing her to be as strong willed as she was, that she would be able to conquer this like it was a minor mogul.
Polly never waivered or napped on her way through her 90s. She was a wonder woman from start to finish.
Tony and Nancy

She was so much a part of the landscape of Shelburne Falls and especially the Trolley Museum which also meant that her care extended to the Art Garden. Her cheerfulness was always a welcome presence. We will miss her and remember her spirit as we go about our work
John

I am so sad to hear this. She was an inspiration to me and to so many others.
I wish you peace as you go through the grieving process. She loved you all so much and was very proud of you.
I will bring flowers to the Museum when it is open again in honor of both Polly and Dave.
I am grateful to have gotten to know her at the Museum.

Sarah

We expect all the trolley family is feeling stunned by this news. Although board meetings have been held virtually and work crews have met, the opportunity to see Polly interacting with families of all ages was definitely missing. What a fantastic ride she had!
Thank you for sharing her final goodbye with us.
James and Diantha

We are so sad to read this. Polly was such a treasure, our now 10 year old loves seeing her on our annual visit to the museum. One visit my daughter was struggling to tie her hiking shoe and Polly took the time to show her a tying trick, to this day we still call them Polly Knots. She was a wonderful lady and will be so missed. We are grateful to have known her and will keep her in our prayers.
Liza

I remember your mom and dad welcoming our family when the boys were little to the Trolley Museum with love and enthusiasm.
Kate

Polly was a big part of our early years as a family and we will always remember her incredible energy and enthusiasm for life.
Yoav, Emily and Asher

I just spoke with her last week in Keystone and she looked great! I was always super impressed with her spark for life! We had actually spoken about the Art Garden that day. She was an inspiration for sure,esp. in my work with her on RiverFest committee where she went door to door asking for sponsors...and worked all year long to plan for a meaningful event to help the River...and build community.
Pamela

Back to the Table of Contents
---
Friends and Family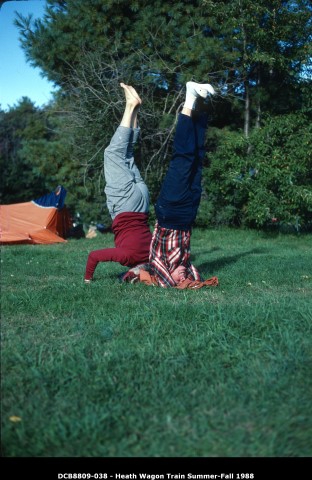 Polly had innovative ways of spending time with friends


Messages from Polly's extended family, her friends and friends of her family
Everyone also expressed their condolences to the family, but I've edited that out for brevity.

It is really, really hard for me to imagine the vibrant, spirited Polly in that state even though both of you have noted her decline, ever so subtly and respectfully the last times I've seen you. My heart is breaking for you though.
Please tell Polly how very much she is loved by so many of us who wish that we had it in us to be just like her. The world does indeed need more Pollys. But your Polly is so completely one of a kind, inimitable. How lucky for you that she has passed on some part of her so joyful joie de vivre to you and to your strong, smart, capable and caring children.
Patricia

Polly opened the door for me, she made my life so much richer, she introduced me to so many people when I moved here.
Mona

Rich and I thought you might like to know that the neighborhood Saturday evening Zoom was devoted largely to acknowledging this poignant time for you and your family, and to sharing stories of your mom. In no particular order, these are some of the moments, accomplishments, skills and characteristics of Polly that were mentioned:
* impressive yoga poses witnessed by classmates in Shelburne Falls studio
* her eschewing the straddle-and-push start in favor of her life-long running mount of a bike
* a ski-patrol member until age 78
* annual trips to New Mexico to ski with Nan
* she started Buckland's Conservation Commission, where she fiercely expressed controversial and spot-on analysis
* her relatively recent award from Trout Unlimited, and the impressive list of environmental accomplishments, many pertaining to the Deerfield River, that was read at the ceremony
* She saved Cricket Field!
* the bridge at "Polly's Crossing"
* her love of the game of bridge, recently played with friends in the library club
* The fabulous Champagne Hikers group (and all the folks younger than she that couldn't keep up)
* giving 4-H riding lessons at Pine Brook Farm for many years
* the equestrian trips to New Zealand with her daughters
* many summers full of adventures with 3 kids at Moose Camp in the White Mountains
* her beautiful singing, with family, at Dave's celebration Our thoughts are with all of you.
Liz, Rich and the "Upper Buckland Neighbors Zoom Cocktail Hour"

As I stood looking out over the lake this beautiful blue bird morning, a smile crept onto my face as I think about the great times with Polly...she said recently, don't call me Aunt Polly!:) Our heavy hearts are with you during your tough time and hope that things go as well as they can. Please hi to her for me and please say good bye to her for me.
Fred

Thank you so much for sharing news of the sad departure of dear Polly. It is with sadness and a broken heart that I write back to you to let you know that we are thinking about you and the rest of the family in a very special way.
Liz and I were just considering a possible trip to North Adams with the hope of, once again, passing through Buckland to visit Polly. Our last visit to her was one of the best visits I have ever had. I am happy we stopped by to talk to Polly for a while. Polly was the best hostess. She made us some tea, served us some lovely cookies, and together, we went back in time, reliving the funny stories that brought us together, and recalling names like Margaret Patch and Rommel. Of course we talked about the horses, bringing them back through their names. We shared photos of our honeymoon, which was spent with Polly and Margaret, and how Polly took us on our first horse rides along mountain trails etc.
Towards the end of the visit, there was a silence that happened as we seemed to individually reflect on details of our story sharing. When we all realized, at the same time, how quiet it was, we laughed, looked out of the windows, and there was snow gently falling..... gently and suddenly too. "Isn't that beautiful?" Polly mused. We all agreed and sat in silence again for a while. It was such a blessing of a moment that we could share together with Polly. That was peace I may not be able to articulate for anyone. It is that kind of peace I hope Polly experienced towards the end of a well-lived and full life.
As someone who has also gone through some losses, I know how hard these times will be for you. As you know, for a while it may seem like you have woken up to a world without its sky. But the sky will reappear in many other forms in honor of Polly. There is "a hole" left in all who knew her, and I think she would like all of us to be patient with the pain of her loss, and relearn the world in another way- see her everywhere, and in everything, with a sense of comfort and peace. I think Polly would like us to give our love, like the snowflakes that lightly settled on the earth on our visit, to all without thought or reason so that we will walk to a place of light and growth in her name.
Your parents were such wonderful examples for our marriage, and so I hope they are together in some place beyond our understanding, holding hands and looking down on all of us with smiles and benevolence. I cannot think of your father without thinking of trains. I cannot think of Polly without imagining the beauty, grace and resilience of horses. I can, however, think of this place where horses run alongside fast moving trains until hoofs and wheels sing in harmony - until together, they are one with the wind and rain.
Tete

What a life well lived! A true treasure who has left behind quite the legacy. My sympathy to you all.
Maggie

I have the now restored painting of Polly right above my piano in the plant room which I pass multiple times a day and spend time quietly with as I wait for our dog to come back through the door.
Polly has always been an inspiration to me my entire life.
Alice

Polly sure was a powerful woman who lived passionately. She inspired so many folks from so many different backgrounds. She truly was a treasure among us. Our lives were enriched by her skills, wisdom, passion, and compassion. Rest peacefully, Polly
Theresa J Kelly Russell

Back to the Table of Contents
---
If you have any Polly stories to share please send them to bartletts at bart-tech.com.

Thanks for reading.

Sam Bartlett, for all those who loved Polly Bartlett.